Our Family
Both Brian and Heather's previous life and formal education prepared them for running a resort where guests are treated as friends and where making great memories with your family is a priority.
Brian grew up in the area, living in a rural Staples, MN and attending Staples Motley High School. After high school he graduated from Bethel University in Arden Hills, MN with a degree in Language Arts and Secondary Education, which means he was an English teacher… He taught for two years at a middle school in White Bear Lake, MN; for six years in at a high school in Roseville, MN; and then for two years after the purchase of the resort in Pillager, MN. Brian spent many summers working at camps, Big Sandy Camp near McGregor, MN; Camp Shamineau, just 5 miles from the resort; and at Montana High Country Adventures, a backpacking/wilderness camp.
Heather's family moved around quite a bit when she was growing up, but she spent most of her childhood in Ogden, IA, where her dad was a camp director. She moved to this area as a high school junior when her dad became a director at Camp Shamineau, (yes, the same camp where Brian then worked…). She attended Staples Motley High School as well and it was there that she met Brian. Heather also worked at several summer camps, including Concordia Language Village camps and Camp Shamineau. She graduated from Bethel University with degree in Spanish and Secondary Education, with a minor in French. She later earned a degree in K12 Spanish education.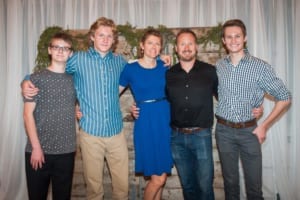 Their sons Elijah, Cael, and Iain, have grown up only knowing the resort life as Elijah was just two and the others not yet born when the Sams purchased the resort. With each year they have taken on more responsibilities around the resort and can be seen helping out at different activities as well.  All three have had an eclectic educational experience as they have been home schooled, have attended public school online, or attended the local Staples Motley public schools. They are active in music, hunting, and Tae Kwon Do.