The Lodge
In addition to being the location of the resort office, the lodge at Campfire Bay Resort has a coffee and ice cream cafe, gift shop, game room, laundromat, and three restrooms.
Our cafe serves excellent cappuccinos, lattes, tea,  and fresh baked goods year round. From May to September stop by to enjoy homemade waffle cones and ice cream!
You can relax with a book from our small library by the fireplace or chat with friend at a table while you eat. The gift shop has scrapbooking supplies, fun lake apparel, cute hats, scarves, aprons, bags, unique jewelry, toys, cards, souvenirs, fishing gear, last minute items, and more.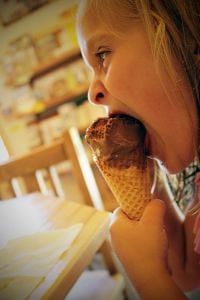 The Coffee & Gift Shop
You're sure to find gifts for any age and taste, as well as something for yourself in our store!
Late May to Labor Day hours for the coffee and gift shop are:
Mon-Sat:  8am-8pm
Sun:  9am-6pm
Labor Day to late May hours are:
Thurs:  1-5pm
Fri:  1-6pm
Sat:  9am-3pm
Sun:  Closed
On Monday – Wednesday we usually have someone in the office from 9am – 2pm, so please call us if you need anything. We also are available by appointment every day if you'd like to stop by the lodge.
The Gameroom
The gameroom is a great place to find a little entertainment with several video games, ping pong, pool, air hockey, and foozball. Our popular carpet ball is just outside under the overhang for more lively play.  Gameroom hours are 9am-10pm for each day in the week.
Laundry
The small coin-operated laundromat is open to the public with preference to our guests and housekeeping staff. Hours are 9am-10pm for each day in the week.
Gathering Room
Our gathering room, as we affectionately call it, is the perfect gathering place for most any occasion. Whether you want to scrapbook or have a business retreat, whether you need a charming place for a small wedding reception or a family reunion, our tastefully designed gathering room will meet your needs.
The room can hold around 100 people in just chairs, 20 8ft tables back-to-back for crafters, or around 90 people at tables. A small, but full kitchen is in the room and a small commercial kitchen is down below in the cafe if meals are desired.
While this room is located on the 2nd floor of the lodge, there is an outside ramp making it handicap accessible.  We provide huge carts for groups to wheel their supplies up from the  bottom of the ramp, right next to where you can park your car, making it very easy and convenient.
During the summer months, the lodge is mostly used for  our organized activities or for large family groups wanting to all eat together.  The room is available for renting by non-guests for $100/day and for a small cleaning fee of $30/stay for guests staying in cabins–call or email with further questions.
Accessibility
The Lodge is wheelchair accessible for both the main level and the second level by ramp