Crafting Retreats 
Whether you are a scrapbooker, quilter, knitter, crafter, or a group of girlfriends just looking to spend some time together, we have the perfect accommodations for you in our deluxe cabins: Willow, Tamarack, Poplar, Birch, and Cedar and in our deluxe 3br cabins Pine Beach and White Oak.  Because we are a year-round resort and live on the property, we are always available to serve you and help you if something should go wrong or to just deliver a delicious latte to your table.  We want your stay to be fun and productive, so we've got the amenities you need all under one roof, including free wireless internet. 
Check-in times: Wednesday, Thursday, or Friday- check-in is 1pm. Guests can come earlier than 1pm if no one is in the cabin before them and if they pay an early check-in fee (10am is $40 and 11:30am is $20). Saturday, Sunday, Monday, or Tuesday- check-in is 4pm. If no one is in the cabin, guests may come at 1pm; please let us know if you would like to come earlier than 4pm and then call the day before your reservation date to confirm what the check in time is.
Check-out times:  Wednesday, Thursday, or Friday- check-out it is 10am; if no one is coming into the cabin that day, then it is 5pm. Saturday, Sunday, Monday, or Tuesday- check-out is 12pm if someone is coming into the cabin that day, otherwise it is 5pm.
Willow and Tamarack can accommodate up to 5 crafters comfortably and Cedar and Birch can comfortably fit 6-7 crafters on the 1st floor, with each person having their own 6ft table and an extra 4x5ft table for supplies.  White Oak can fit 5 tables. All of these cabins can fit additional crafters if you don't mind your work space being a little tight. Pine Beach can also accommodate up to 6 in the same way, but uses it's main living room to do so,  there is not a second living room for "hanging out" like in Willow, Tamarack, Cedar, Birch, and Poplar.
Poplar can only accommodate 6 tables, but 4 comfortably in its 1st floor workroom and thus is a good choice for large groups wanting to craft in the lodge. Poplar is close to the lodge and will sleep up to 16 (two people per queen and futon bed).
Birch and Cedar are a side by side duplex that can be rented together to form a large 8br, 6 bathroom cabin.  Double doors between the two workrooms can be opened up to form a large workroom capable of holding up to 16 tables, though 12 comfortably.
If your group is over 8 people, our lodge gathering room can accommodate around 20 crafters.  While you would have to make a short walk from your cabin to the lodge, there is a kitchen and 3 bathrooms inside so you would only need to leave to sleep (if you want to 🙂 ).  Lodge guests are given a key to the lodge gathering room and have access to the building 24/7 while here.  There is a small additional fee of only $30 total for the entire weekend to work in the lodge.
September 28, 2018 – May 12, 2019
Daily Rates Per Cabin 
| | |
| --- | --- |
| # of Guests | Price per person(tax included) |
|  2 |  $88.58 |
|  3 |  $64.43 |
|  4 |  $52.35 |
| 5 |  $45.10 |
|  6 |  $40.27 |
|  7 |  $36.82 |
|  8 |  $34.23 |
|  9 |  $32.21 |
|  10 |  $30.60 |
| 11 |  $29.29 |
| 12 |  $28.19 |
September 26, 2019 – May 11, 2020
Daily Rates per Cabin
    # of Guests     
      Price per Person     

(tax included)

2
$91.27
3
$66.22
4
$53.69
5
$46.17
6
$41.16
7
$37.58
8
$34.90
9
$32.81
10
$31.14
11
$29.78
12
$28.64
Note: Over 6-8 people should choose to craft in Cedar and Birch together or in the lodge.  Remember, if taking two cabins you need to use the figures above for EACH cabin.  If using the lodge, you would need to take $30 plus tax and divide it by the number of people and add that to the total rate per person.
Note: We have 21 inch wide, 4 1/2 inch thick padded chairs for your comfort. Lodge set up for crafting–bright, airy, spacious, lots of outlets, kitchen in the back.
Do we have what you want?
Scrapbookers
We have a varied assortment of scrapbooking supplies which may include: a 12X12 paper cutter, a large Xyron sticker machine, stamps, punches, and  idea books and magazines.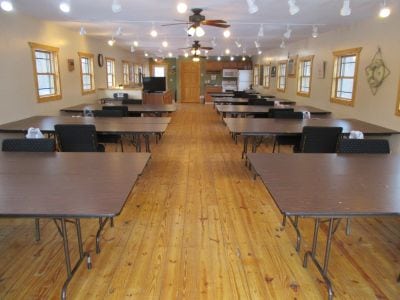 Cricuts and printers: There are cricuts and cricut cartridges available in the Lodge to be signed out free of charge on a first-come, first-serve basis. Similarly, printers are also available in the Lodge, but they must be rented for a small fee of $5 during your stay.
*Note:  White Oak does not come with supplies, but can be supplied if the other cabins are not full.
Quilters
We have lots of outlets, an extra sewing machine, irons, and ironing boards. Most cabins also include:  satellite TVs and DVD players, whirlpool tub, in-floor heat in the workroom (no cold tootsies!), and gas or electric fireplaces
See cabin pages for exact amenities
Need supplies?
We have a small, but growing scrapbooking section with  items like adhesive, cutter blades, Cricut mats and blades, fun embellishments and stickers, cute album kits, and lots of patterned paper and cardstock for purchase in the lodge.  We've also got great coffee, cappuccinos,  lattes,  and other treats to sustain you on those late nights! There are other stores in the area that provide a selection of supplies as well!
Old Creamery Quilt Shop (located in Randall so only 15 minutes away) offers a variety of patterns, fabric, notions, yarn and more! Check out their website to view the products online. Other options include Joann Fabrics, Colorz Quilt Shop and Country Fabrics and Quilting in Baxter/Brainerd (about 35 minutes away). Crafts Direct in St. Cloud (about an hour away) is a huge store and a great resource for various craft supplies!