The CBR REC
The recreational center, or CBR REC as we like to call it, was built in the first half of 2016.  This large building tucked in the woods boasts a gym with basketball and volleyball nets, a state of the art fitness room, a play room, an office, a small meeting room, 2 bathrooms with showers, and our day spa.
Open to guests for free and to non-guests for a small fee, the Rec is a great place to get a workout or play on days when weather doesn't cooperate.
You can also get a massage, manicure, pedicure, facial, or even a haircut at our salon. Schedule to meet with a life coach or personal trainer for help in a variety of areas. Classes like yoga, zumba, HIIT can also be held here.
Want to host a party, reception, conference, or other larger get together?  The facility is also available to rent out to guests and non-guests alike on a limited basis. Check out the available sub-pages to learn more about the CBR REC and click here for rental rates!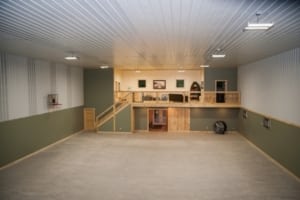 Children's Play Area
The children's play area in the REC Center provides a great place for young kids to be entertained! They can enjoy a fun kitchen set, a tote full of toys such as train tracks, a car play rug, children's games and books, a TV with kids movies available and more! Feel free to relax in the cute sitting area while you watch the kids play!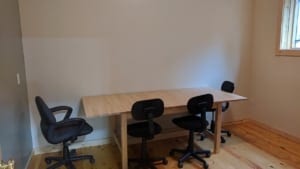 Office Area
Need a quiet place to concentrate on some computer-work related tasks while you're on vacation? The CBR REC has the perfect office area for you! It has dimensions of approximately 10 x 12 ft. with a desk and chair inside and great wifi access too!
Accessibility
The Rec Center is wheelchair accessible upon request